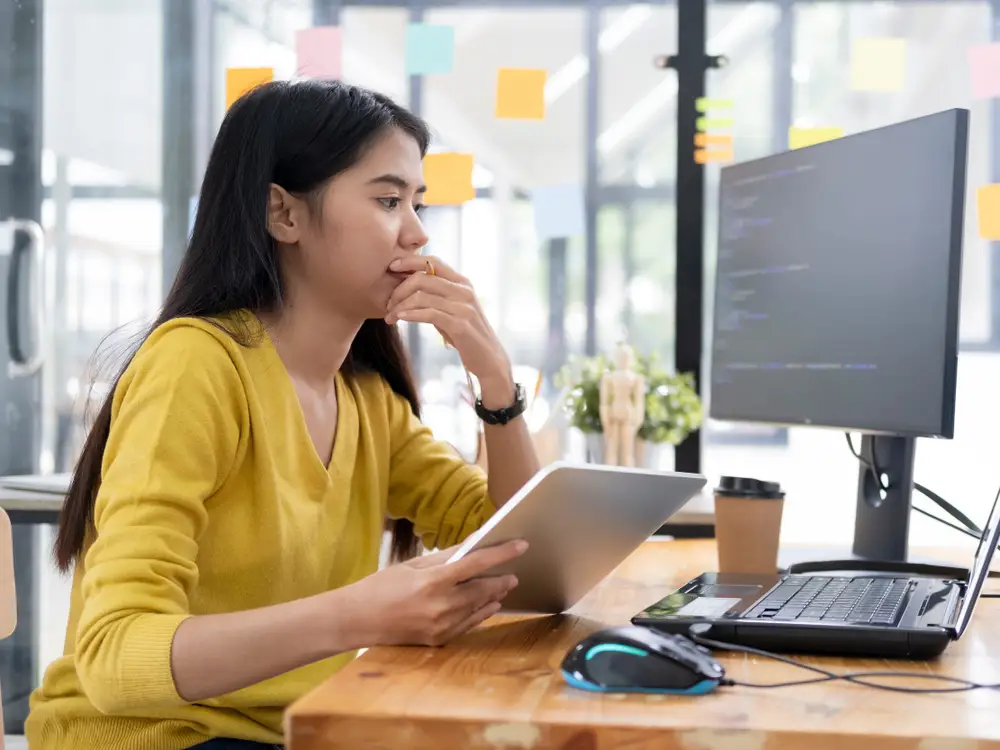 It is becoming very common for LATAM software developers to work remotely as contractors for U.S. and Canadian technology companies, not just because of the costs but because of the pool of talent you have when doing so. It's a logical extension of the work-from-home drift away from hubs like San Francisco and New York to less expensive locations — including across national borders.
The growing and expanding IT sector in the United States, either for process automation or to create new forms of business, has fueled the demand for software developers. But finding highly qualified software developers is becoming increasingly difficult, which has put companies in a paradox and has prompted them to expand their labor borders to access IT professionals outside their territory.
In a market where demand exceeds supply and rates are rising, this article helps answer a question being asked across the North American tech industry: where are the best developers in Latin America and what are their rates? This article will give you a summary of these questions and tell you why the Latin American territory has the most coveted software developers.
What is Considered a Latin American (LATAM) Country?
Latin America is broadly construed as South America, Central America, Mexico, and the Latin Caribbean. "Latin" is not synonymous with "Spanish speaking" nor should it be as Spanish is not the only Latin language: Portuguese, Galician, Catalan, French, Romanian, Occitan, Italian, and Romansh are some of the other languages that have been derived from the Latin language.
Latin America includes the following countries:
North America: Mexico.
Central America: Guatemala, Honduras, El Salvador, Nicaragua, Costa Rica and Panama.
South America: Colombia, Venezuela, Ecuador, Peru, Bolivia, Chile, French Guinea, Paraguay, Brazil, Argentina and Uruguay.
The Caribbean Sea Countries: Cuba, the Dominican Republic, Haiti and Puerto Rico.
The population of Latin America is 665 million as of 2023, based on the latest United Nations estimates and area is 19.2 million km sq.
Why is Latin America the Land of Hopes Concerning Nearshore Software Development in Particular?
It's no secret that Latin America (LATAM) has experienced unprecedented economic, technological, and entrepreneurial growth in the last few years. The software industry in Latin America is expected to register significant growth in the upcoming years. In fact, nearshoring is projected to generate US$ 78 billion in exports for Latin America by the end of 2023.
VC activity in the region has also exploded in recent years. In 2022 alone, there were 1.251 funding rounds, worth US$ 12 billion in volume of investments. The average round size was US$ 12.4 million – and there were 299 Mergers & Acquisitions. The region is now home to 26 unicorns as of August 2023. This goes to show you how massively the LATAM software industry is growing.
So why is Latin America the land of hopes concerning nearshore software development in particular?
First, mobile technology and internet usage are rapidly expanding across the region. Most nations in Latin America have advanced telecom infrastructures, with some of the greatest rates of mobile and broadband adoption globally.
Second, Latin America has dozens of major technology-focused universities like Tecnologico de Monterrey, Pontificia Universidad Católica de Chile (PUC), University of Sao Paulo, Universidad de Buenos Aires (UBA), et al.
Thirdly, several LATAM governments have implemented measures that facilitate opening new businesses, with the aim of enabling foreign companies to expand more easily in the region. Consequently, venture capital investments in the Latin American software development industry have set the groundwork for profitable B2B opportunities.
Which are the Best Countries for Hiring Software Developers in Latin America?
There is great software engineering talent in Latin America that keeps rising as time goes by.
To know more precisely which countries were the best in LATAM (Latin America) regarding IT skills, we analyzed two different reports:
This report gathered the test results of 1.5 million developers from 50 countries. These are the results for Latam:
| | |
| --- | --- |
| Country | Place |
| Chile | 27th |
| Mexico | 33rd |
| Brazil | 38th |
| Argentina | 39th |
| Colombia | 45th |
This report draws on data specifically from Coursera's 4 million enterprise learners across 3,000 businesses, 3,600 higher education institutions, and governments in over 100 countries. The report places Mexico, Colombia and Argentina in the top-three for the region.
| | |
| --- | --- |
| Country | Place |
| Mexico | 1st |
| Colombia | 2nd |
| Argentina | 3rd |
| Chile | 4th |
| Argentina | 5th |
According to these reports, the best countries to hire LATAM software developers are Mexico and Argentina. Followed by Chile, Brazil, and Colombia.
Mexico
Argentina
Chile
Brazil
Colombia
Top 5: The Best Countries for Hiring Nearshore Software Developers in Latin America (LATAM)
#1: Mexico
Population: 128 million
Economy: 14th largest in the world (2nd largest in LATAM)
‍Number of developers: 225,000
‍Unicorns: 8
‍Languages: Spanish and English (intermediate proficiency)
‍Average senior software developer annual salary: Approx. $49,959
Mexico tops our list as the best country for hiring nearshore software developers in Latin America. The country has seen a significant growth in it's IT workforce. Mexico is reputable for sourcing nearshore software developers, particularly for U.S-based firms, due to its close geographical proximity, a great time zone, diverse and skilled workforce, and a good ranking in the Ease of Doing Business Index.
As a result, Silicon Valley has been expanding south to Mexico for a while, reaching several Mexican cities. It's no surprise then that many of the world's leading software engineering firms, including companies such as Netflix, Amazon, and Google, as well as consulting firms such as Codebay and Teravision, have a strong presence in Mexico. Nearly 40 IT clusters throughout Mexico offer software development, among other technical services, in addition to this, many companies also find more accessibility to niche IT resources in Mexico because of its proximity to North America.
#2: Argentina
Population: 45 Million
‍Economy: 3rd largest in LATAM
‍Languages: Spanish and English (highest proficiency in LATAM)
‍Unicorns: 11
‍Number of developers: 115,000
‍Average senior software developer annual salary: Approx. $56,000
Argentina is among the most popular countries to look for nearshore software developers and other IT talent. The country is known for its software engineering and its engineers are recognized for their excellent skills. This makes it a robust nearshoring hub. According to the EF Education First global test, Argentinians score the highest in the Latin American region in academics. Most Argentinian software developers are proficient in English (highest English proficiency in LATAM), which is a great strategic advantage.
Argentina's software market was valued at 1.9 billion U.S. dollars in 2021 and was expected to increase to 2.8 billion U.S. dollars by 2026. U.S companies choose Argentina as their preferred nearshoring region because of their English proficiency, proficiency, affordable rates, and convenient time zone.
Examples of big U.S. companies that outsource software development to Argentina include Cisco, Google, and Microsoft.
#3: Chile
Population: 19 million
‍Economy: High-income economy as ranked by the World Bank
‍Unicorns: 1
‍Number of developers: 61,000
‍Software development outsourcing: Ranked #1 in LATAM for ease of business and innovation
‍Average senior software developer annual salary: Approx. $37,500
‍Languages: Spanish, English (intermediate proficiency)
Regionally, Chile has one of the strongest skills proficiency in software development. The IT scene in Chile has been growing for several years now. In fact, many consider Santiago, the capital, a major Latin American tech hub and it's easy to see why, as Chile's startup culture and constant innovation have put the country 3rd on our list. Data processing, security systems, web development, mobile banking, and green technology are just a few of the fields where Chilean software engineers have excelled.
The political will to support entrepreneurship is also one of the strongest in the region. This country is an example of how an economy can benefit from high economic freedom, relatively low taxes and bilateral trade agreements with many other countries. In fact, Chile is the country with the most free trade agreements in the world.
There is a long list of multinational companies already installed in Chile: GE, Oracle, Synopsys, Yahoo, etc.
#4: Brazil
Population: 212 Million
‍Economy: 9th largest economy globally
‍Unicorns: 20
‍Number of developers: 500,000IT companies: approx. 25,000
‍Software development outsourcing: Ranked 13th country globally
Average senior software developer annual salary: Approx. $52,000
‍Languages: Portuguese, English (intermediate proficiency)
Brazil is the biggest exporter of software services in Latin America largely owing to its sheer size and the number of software developers available for U.S. and North American companies to recruit. The South American giant ranks 4th in our list for hiring LATAM nearshore software developers. The country has a wide network of tech hubs spread across São Paulo, Campinas, São José dos Campos, Florianópolis, Belo Horizonte, Porto Alegre, Blumenau, Recife, Rio de Janeiro among other locations.
Their programmers are some of the most enthusiastic people for Linux stuff and even have a couple Linux distributions of their own. With more than 500,000 IT professionals, and approximately 23,000 new IT graduates entering the industry each year, Brazil is a excellent place for hiring nearshore software developers.
Some tech bigwigs, including Amazon, Airbnb, Dell, GoDaddy, Google, Meta, Netflix, and HP, for example, have already set up shop in Brazil.
#5: Colombia
‍
Population: 51 Million
‍Economy: 4th largest economy in LATAM
‍Unicorns: 3
‍Number of developers: 150,000
‍Average senior software developer annual salary: Approx. $59,993
‍Languages: Spanish, English (low proficiency)
Although Colombia is in a relatively lower state of development compared to other countries in this list, it has a significant population of trained software developers and, in fact, an overall abundance of trained labour relative to the economy's development. This means that university graduates are far cheaper to hire here than in the other Latin American countries. Colombian elite universities are some of the best across the region. The country is also pretty open to investment and has flexibility regarding the hiring of labour.
And if you're curious, the best software development company in Latin America (and apparently in the whole spanish-speaking world) is actually a colombian one: PSL, with more than 600 professionals operating out of offices in Medellín, Bogotá and Cali Colombia.
Benefits of Hiring a Nearshore Software Developer in Latin America
More companies are understanding the value of hiring remote software developers in Latin America. With highly skilled IT specialists in innovative technologies, convenient time zones, well-developed business environments, and affordable hourly rates—the benefits of hiring top tech talent in this region far outweigh the negatives. The idea of hiring Latin American nearshore developers is proving attractive for a U.S. tech industry that may face a shortage of at least 1.2 million tech workers by 2030, according to a report by consulting firm Korn Ferry.
Let's take a detailed look at some of the benefits:
1. Highly skilled tech talent: Many Latin American countries have invested massive amounts in developing their tech talent, allowing developers to get comfortable with their skills and have a more robust understanding of the industry as a whole. This has led to the growth and development of the tech ecosystem in the region. Many famous tech giants and startups now feel comfortable nearshoring their IT projects to LATAM, further contributing to its influence as nearshore hub for IT and software engineering talent.
2. Proximity to North America: The time zone difference between Latin America and North America averages less than two hours, making it easy for companies to hire developers that can work on a similar timeline to their own. This allows for prompt communication and minimizes the risk of missing deadlines. Also being geographically close can be beneficial, especially in agile software development. Hiring from LATAM means you're closer to the action. If you need to hop on a plane to visit your remote team and get involved in the development cycle, you don't need to travel halfway across the globe. This makes culture and team building also much easier.
3. Fewer language barriers: Better English skills translate to streamlined communication with fewer hiccups that could cause errors and issues in collaboration. Due to its proximity to North America, many Latin American software developers are already fluent in English. Plus, many Americans have an adequate understanding of Spanish, the most common language in Latin America.
4. A growing tech industry: With almost one million tech graduates per year in Latin America, the tech industry isn't slowing down anytime soon. Latin American governments continuously invest in technical education, laying the foundation for a talented, growing group of software developers.
5. Lower costs: Software developers in LATAM are likely to be paid less in dollar terms than a U.S. hire would be. But it's still a good deal for them due to weaker currencies. Many U.S. firms are benefiting from a cheaper labor pool in Latin America, at a time when U.S. businesses are being forced to raise wages because of inflationary pressures at home. "If I'm hiring a person in Cleveland, why not just hire a person in Bogota?" Josh Brenner, CEO of Hired, said in an interview. "They're both remote, they're both on the same time zone. And I can do that in a much more cost-efficient way right now."
6. Cultural similarities: North America and Latin America share many commonalities, including a strong work ethic, workplace hierarchies, and a deep understanding of the technological landscape. These cultural similarities allow employers to connect seamlessly with local workers and hit the ground running.
How Much Does it Cost to Hire a Software Developer in Latin America
There are many ways companies can save money by hiring remote employees. But when it comes to tech talent, sometimes making this smart decision isn't even about the money. One of the most significant benefits of scaling your company virtually is that you can hire talented employees. You have the whole world to choose from.
However, when you have employees with outstanding coding skills and lower salaries, you have the best of both worlds. Your company is saving money but, at the same time, is investing it in talented employees. Latin America is the new attraction for many North American companies seeking to lower their expenses but not give up their quality within. The table below shows an estimated comparison of the salaries of software developers in Latin America.
| | |
| --- | --- |
| Country | Average Yearly Salary in U.S. Dollars |
| Brazil | $47,823 |
| Mexico | $36,324 |
| Argentina | $29,556 |
| Colombia | $27,264 |
| Chile | $25,799 |
How can Next Idea Tech Help me Hire Nearshore Talent in Latam?
Hiring top tech talent requires, besides the necessary skills for their role, to seek for someone who:
Speaks the same language as you do
Is in tune with your company's culture
Understands your business processes
Gets along well with your team (among other aspects)
But how can you guarantee that your candidate will be the one?
Besides expanding your limits and seeking nearshore LATAM software developers, make sure that your HR has the necessary knowledge to identify a great nearshore candidate. Not only looking for software developers with great professional experience or education but also keeping in mind soft skills and personality traits.
If these all sound too much, don't worry! We got your back. As a nearshore recruitment agency, we have years of experience empowering scaling companies to build, grow, and manage remote tech teams in Latin America.
We care that everyone has access to the Latin America's best tech talent. Therefore, we make this process easier for you. Through remote staffing and direct placements, we ensure that your company finds top-notch IT talent to augment your existing teams, fill skill gaps, and respond to scaling needs.
If you're hoping to capitalize on software developers in Latin America without increasing costs, Next Idea Tech can help. Contact us now to get started!