Having a website or mobile application that works well is important, but making it easy to use and engaging for its users it's a whole different challenge. That's where UI/UX design comes into place, to make sure your clients are satisfied with your site or online store and gladly return to it to continue purchasing your products or services. 
There are many reasons why companies with an online presence should invest in nearshore UI/UX design software. Keep reading to learn about the importance of UI/UX development! 
What is UI/UX development?
UI/UX development is the design of everything a user sees and interacts with on their screen while browsing through your site. Users get the first impression of your brand, making it a key component of your business strategy.
If your potential customers have different options available, they'll probably go to one of your competitors if the look of and the way you present your products/services isn't top-notch quality.
User experience design creates an engaging and aesthetic interface that allows your business to satisfy customers and increase sales in the long term. 
Why nearshore UI/Ux development helps your business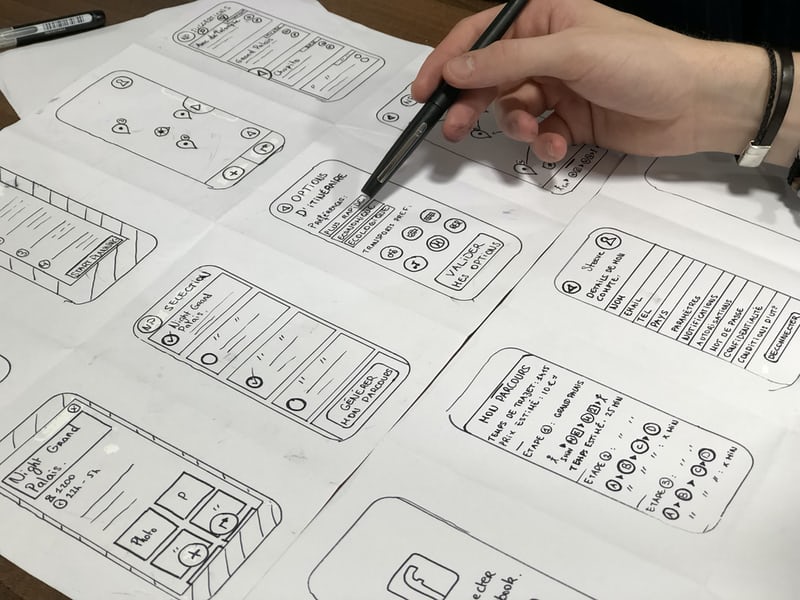 A smooth user experience.
If there's one thing UI/UX development does well, it's improving the experience of the visitors of your website. A smooth user experience accelerates your conversion rate and allows them to maintain consistency throughout all user features.
This includes clickable buttons, call-to-action items, and mobile formatting. You can customize all of these items through custom software development by hiring UI/UX designers. 
It improves your company's reputation.
While UI/UX development seems a bit too technical to have the potential to improve your company's reputation, it can help to better your customer's perception of your company.
The reason behind this is simple: the easier it is for them to navigate your services, the faster they can get what they need and carry on with their lives. This kind of efficiency is invaluable nowadays as everyone is usually scrapping for time and looking for efficient services. 
UI/UX development increases your sales by up to 30%.
It's no wonder why big companies like Google, Spotify, and Amazon keep investing in UI/UX design software. A recent study led by Soussan Djamasbi analyzed web design and the characteristics of mobile user experiences and eventually revealed that, when the user interfaces were optimized for mobile formats through UI/UX development, the following results were achieved:
30% increase in sales.
50% decrease in bounce rate.
70% increase in the number of products sold.
These numbers are a fantastic indicator of how big of an impact UI/UX development can have on your business if you follow the best practices of this coding strategy.
Have a website that understands customer behavior.
Strong UI/UX development comes from understanding what users want to experience while on a website or mobile application. The type of CTA's they respond the most to, the features they find more efficient, what type of design appeals to their eye, and how long they usually stay on your site.
This is all done through defining your target customers, building a user persona, and putting into the shoes of the potential website visitors. That's how UI/UX development is done, and if your website is completed with UI/UX design software, it'll truly understand your clients. 
Give users the option to do more, boosting engagement.
Imagine you visit a website and it's completely unresponsive. The buttons won't work as they should, the mobile format is nonexistent, and it looks like something from an early 2000s movie. Would you want to stay on that site for longer, maybe check out the company's About page? The answer's probably no.
With UI/UX development, users can do so much more than just stare at the screen while on your site. If the design of the interface is good enough, they'll be able to browse through your FAQ, About, and Contact pages as well as check out your products or services. 
Nearshore UI/UX development services lower your coding costs.
From the get-go, UI/UX allocates the right resources during the research phase of user interface design to help reduce coding costs later on. It produces a prototype that facilitates a complete visualization of how users will react to your site/s interface and conducts the necessary adjustments to solve any issues before they incur extra expenses later on.
Additionally, nearshore UI/UX development helps you further reduce development costs by taking advantage of IT staff augmentation. This hiring model lets you hire remote developers from a nearshore location and get the same quality UI/UX solutions for as much as 40% less the price.
Ready to hire nearshore UI/UX development services?
Now that you understand the different advantages of nearshore UI/UX development, you can start looking for ways to improve your website's user experience. At Next Idea Tech, we have years of experience working with top-notch UI/UX developers who provide custom software solutions and work with you to bring your ideas to life.
Through our staff augmentation program and signature vetting process, we can help you hire remote developers in just a few weeks. Contact us today to learn more about how you can hire nearshore UI/UX development services!
UI/UX design FAQ
What is UI/UX development?
UI/UX development is the design of everything a user sees and interacts with on their screen while browsing through your site.
How can companies benefit from UI/UX development?
It facilitates a smooth user experience, boosts engagement, increases conversion rates, and improves your brand's online presence.