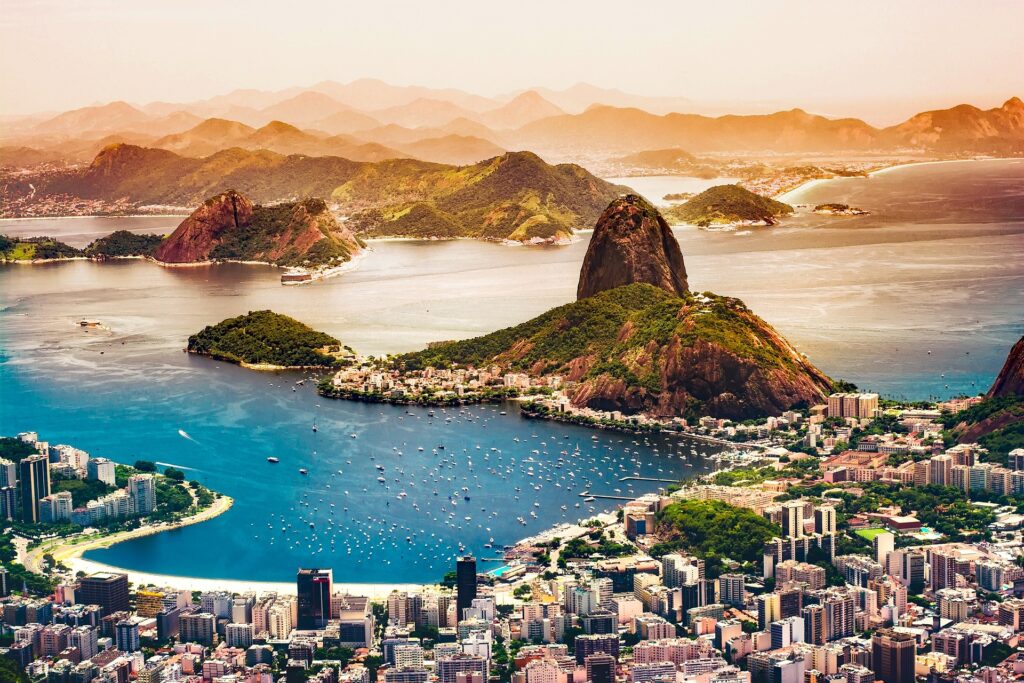 Introduction
Companies with ambitious and far-reaching business goals recognize the significance of hiring top tech talent. When such a need meets the necessity to cut operational costs, hiring the best developers remotely becomes a perfect-fit strategy. Brazil has emerged as a prominent destination for nearshoring software development projects and other business operations. While Brazil might not be the first place that pops into your mind when hiring nearshore developers, the Latin American country has positioned itself as an international hub of tech talent.
The country has successfully transformed its ICT (Information and Communication Technology) infrastructure, workforce, and business outlook to align with the demand of both the U.S. and global markets. This success can be attributed to Brazil's abundant talent pool of skilled and upcoming software developers, world-class educational institutions that foster excellence, and competitive service rates. According to The Global Services Location Index (GSLI), Brazil is among the top 5 best locations for IT outsourcing based on metrics such as the business environment, investment climate, financial attractiveness, candidates' technical skills, and digital resonance.
In 2022 alone, Brazil's software industry generated over $10 billion in revenue, cementing its position as the leading software development outsourcing destination in Latin America. By 2026, it is estimated that the software industry in Brazil will generate $16,135 million in revenue.
That is why in this article, we'll be taking a more detailed look at Brazil's nearshore software development opportunities. This article will succinctly and assertively highlight the main reasons why more and more North American companies are considering Brazil when hiring nearshore developers, as well as the advantages of using Brazilian software developers from a U.S. company's perspective. The article will also delve into the average monthly and yearly salaries of developers in Brazil.
What To Know About Brazil
Capital: Brasília
Currency: Real (R$)
Language: Portuguese
Time zone: GMT-2, GMT-3, GMT-4, & GMT-5
Population: 212 million
GDP: 1.445 trillion US dollars
Software developers: 500,000+
Average developer's salary: $82,479 ⁽*¹⁾
Credit Rating: BB- ⁽*²⁾
Risk Assessment: 4 ⁽*³⁾
Ease of doing business: 59.1 ⁽*⁴⁾
Political Stability: -0.5 ⁽*⁵⁾
⁽*¹⁾ according to Glassdoor, a Senior Software Engineer, with 7-9 years of experience earns an average total compensation (including tips, bonus, and overtime pay) of $82,479.
⁽*²⁾ according to Standard & Poor's (S&P), the credit rating for Brazil stands at BB- with a stable outlook. S&P assigns letter grades to countries and the debt they issue on a scale of AAA to D, indicating their degree of investment risk. It is an opinion of an obligor's creditworthiness (Issuer, Corporate, or Counterparty Credit Rating) or overall capacity to meet specific financial obligations.
⁽*³⁾ EKN places Brazil in a more favorable country risk class (4). This rating refers to the country's ability to transfer currency for foreign payments. This ability is determined by several circumstances which can be grouped as political, economic, and financial factors. transfer currency for foreign payments. Ratings are assigned on a scale of 0 to 7. The lower the number, the better the country's creditworthiness
⁽*⁴⁾ according to The World Bank Doing Business 2022 report.
⁽*⁵⁾ according to The World Bank. These statistics show the political stability and absence of violence. It ranges from -2.5 (lowest) to 2.5 (highest).
Why Hire Nearshore Developers For Your Project
In the early days of software development, U.S. companies may have exercised considerable caution when hiring foreign developers. However, in today's world, companies can effortlessly search and unearth talented and reliable software developers in countries like Brazil, evaluate their skills thoroughly, and make hiring decisions accordingly.
According to the Deloitte Global Outsourcing Survey 2022, 50% of surveyed executives identified finding and keeping the right talent with the right skills at the right price as the top internal challenge for their organizations. With that in mind, its understandable why many businesses are looking beyond national borders to find the most cost-effective solutions for their projects. The survey also revealed strong growth in the use of third parties by IT departments over the past two years.
But that's not the only reason. Businesses hire nearshore developers to:
Get access to specialized skills and expertise that may not be available in-house
Save costs due to lower labor costs in most nearshore countries without compromising on quality
Gain flexibility to scale resources up or down depending on project needs
Focus on core business activities while outsourcing non-core functions
Mitigate risks associated with project failures by partnering with experienced nearshore vendors
Improve innovation and competitiveness by leveraging new technologies, fresh perspectives, and innovative approaches brought by nearshore partners.
For US-based companies, opting to hire Brazilian nearshore developers is an exceptionally safe and smart decision. Brazil's IT industry has shown remarkable growth in the past few years, attracting substantial investment. By nearshoring software development to Brazil, businesses can take advantage of the great opportunity to work with developers in real-time, assess progress on projects, and get work done on time, and at reasonable costs.
6 Reasons For Hiring Brazilian Nearshore Developers
To highlight the advantages of nearshoring software development for your business to a Brazilian company, we have shortlisted the following reasons:
Time Zone Overlap with the United States
Competitive Labor Costs
Large Talent Pool of Highly Skilled Developers
Multilingual Capabilities
Advanced ICT Infrastructure
Favorable Government Policies
#1 Time Zone Overlap With The United States
While remote work has eliminated many geographical barriers, time zone differences are something that companies still have to grapple with when considering outsourcing IT services to third-party vendors. There is no shortage of software developers available in Asia and Eastern Europe. But US-based companies often hesitate to hire them due to the significant time zone difference. Dealing with a 12-hour TZ difference can pose challenges for collaborative projects.
Fortunately, that problem is practically non-existent in Brazil. The U.S. East Coast is only one hour behind Brazil, and with the West Coast, the time difference is only four hours. This overlap in time zones provides the opportunity to engage in real-time meetings and timelines. It guarantees that no one has to get up in the middle of the night or early morning for meetings. Therefore when you hire nearshore developers from Brazil to work remotely with you, the experience will be close to seamless in terms of communication and keeping up with deadlines.
#2 Competitive Labor Costs
Recruiting and training an in-house team can be both costly and time-consuming, particularly in the U.S. due to high labor and operating costs. Cost-wise, even when we account for the extra recruiting and incentive costs, hiring a Brazilian nearshore software development team would cost U.S. companies much less than hiring U.S. developers. The average salary for a software developer in Brazil is about BRL 336,000 (USD 61,658) a year. In contrast, the average salary for a software developer in the U.S. is as high as USD 120,168 a year, a significant difference.
This difference can be attributed to the significantly lower cost of living in Brazil in comparison to American cities. Consequently, this translates to lower employee salaries and cheaper business resources. As a result, businesses in the U.S. can significantly lower their operating costs and maximize profit margins by nearshoring in Brazil, all while still getting good quality work and output for their technical projects.
#3 Large Talent Pool of Highly Skilled Nearshore Developers
The availability of a skilled workforce is always crucial when looking for a nearshore destination. For this reason, the Brazilian federal government has prioritized STEM education as a critical enabler for digital transformation and has been successful in creating a solid and vibrant workforce. The country currently has over 500,000 software engineers. According to the BRASSCOM IT Human Resource Market Survey, between 2021 and 2025, the IT human resource market in Brazil is expected to welcome around 237,000 new people into the workforce.
Software developers in Brazil are trained in more than 120 scientific and technology institutes and 400 incubators operating across the country. Some of these institutions are ranked among the finest in the world. For example, the University of Sao Paulo (USP) has the second-highest score in Latin America and is among the world's top 90 engineering and technology institutions, according to the QS Rankings. USP is also the top Brazilian university for computer science.
#4 Multilingual Capabilities
Speaking and communicating fluently in English is increasingly becoming important when educating the Brazilian youth, particularly software developers. While Brazil doesn't score highly in English skills, software developers in the country tend to lead the pack in terms of advanced English proficiency, making it easy for companies to collaborate with Brazilian developers and get work done. Many workers are also fluent in French or Spanish, and almost everyone is bilingual or multilingual. The growing presence of global companies has also led to improvements in English language proficiency among Brazilian workers.
#5 Advanced ICT Infrastructure
Thanks to substantial investments by both the government and the private sector, Brazil boasts a thriving technology infrastructure comprising state-of-the-art data centers, reliable internet connectivity, and advanced telecommunications networks. As of 2023, Brazil hosts over 90 technology parks and over 35 business accelerators. These Science and Technology Parks (STPs) not only provide cutting-edge digital infrastructure but also house a significant concentration of companies offering information technology services.
Furthermore, the Brazilian Information and Communication Technology market (ICT) ranks 10th in the world in 2023 and is valued at US$ 46.2 billion.
#6 Favorable Government Policies
The government has taken several steps to boost Brazil's ICT sector. National strategies such as the National Artificial Intelligence Strategy, National IoT Strategy, National Cybersecurity Strategy, National Defense Strategy, and Digital Governance Strategy have been implemented to harness the full potential of digital technologies to boost Brazilian productivity and competitiveness.
The strategies and investments made by the Brazilian government have had an enormous impact on local and international IT companies alike. Today there are over 2,000 Business Process Outsourcing (BPO) service providers in Brazil that employ over 600,000+ professionals – making it a growth engine for Brazil itself as well as for foreign companies who want to outsource to the country.
In addition, software and IT services companies, both local and foreign, enjoy financial aid and tax incentives at the federal and state levels. This favorable environment has helped further the development of Brazil's technology industry.
The Cost of Hiring Brazilian Software Developers
How much do software developers make in Brazil? According to data from Glassdoor, software developer salaries in Brazil are quite affordable compared to the U.S. While the average developer earns just under $40,000 a year in Brazil, the lowest-paid software developers in the U.S. $82,430. That nearly halves a company's salary costs. However, senior software engineers earn much more with an average salary of $91,320.
| | | |
| --- | --- | --- |
| Type of Employee | Monthly Salary | Annual Salary |
| Junior Developer | R$8,000 ($1,705 USD) | $20,460 USD |
| Mid-Level Developer | R$15,625 ($3,330 USD) | $39,960 USD |
| Senior Developer | R$35,700 ($7,610 USD) | $91,320 USD |
2 Key Factors To Consider When Nearshoring Software Development To Brazil
When contemplating the possibility of nearshoring to Brazil, it is important to consider the following crucial aspects:
Brazil has a complicated tax system
Talent isn't just confined to major cities alone; it is evenly distributed across the country.
1. Brazil Has A Complicated Tax System
When evaluating the option of nearshoring in Brazil, it's crucial to take into account the country's complex tax system, which poses a significant challenge for foreign companies hiring workers. Brazil imposes substantial taxes not only on earnings but also on factors like energy consumption. The tax system includes key components such as:
Corporate Income Tax (Imposto de Renda de Pessoa Jurídica – IRPJ): This tax is levied on the net income of Brazilian companies and foreign entities operating in Brazil.
Social Contribution on Net Profits (Contribuição Social sobre o Lucro Líquido – CSLL): Similar to the corporate income tax, CSLL is imposed on the net profits of companies and foreign entities.
Value Added Tax (Imposto sobre Operações relativas à Circulação de Mercadorias e Prestação de Serviços de Transporte Interestadual e Intermunicipal e de Comunicação – ICMS): ICMS is a state-level tax imposed on the circulation of goods and services, including imports and exports.
Navigating this intricate tax structure often necessitates the involvement of a tax expert, resulting in additional expenses associated with nearshoring. It's important to understand the specific tax obligations and compliance requirements related to these taxes, as they can vary based on the state and locality where services are delivered.
Furthermore, when considering employee compensation in Brazil, the wage system is intricate and includes a unique 14-month salary structure. This encompasses a month's worth of vacation pay and a bonus granted to all Brazilian employees. Employers are also responsible for covering transportation and meal subsidies, as well as the costs associated with recruiting and retaining employees.
2. Talent Is Evenly Distributed Across The Country
When considering nearshore development, it's important to broaden your perspective beyond the major cities. While Brazil's tech marketplace may not be as fiercely competitive as some others at present, prominent cities still offer a plethora of opportunities for developers. However, by outsourcing to smaller cities and towns, you can enjoy even less competition and the advantage of working with the same developer throughout your entire project.
Comparing the salaries of software engineers, São Paulo stands out as paying approximately 30% more than smaller cities like Curitiba, Maringá, Campinas, Porto Alegre, and Florianópolis. These smaller cities are thriving tech hubs, providing ample talent for you to choose from. Moreover, the cost of living in these areas is significantly lower, and they often offer a higher quality of life compared to the bustling metropolises.
By exploring nearshoring options in these smaller cities, you can leverage the talent available at a relatively lower cost while potentially enjoying a more favorable work-life balance.
Where To Find And Hire Brazilian Nearshore Developers
So, the idea of hiring nearshore developers in Brazil is an excellent choice, considering the growing and diverse tech market, abundant talent pool, solid technical education of the programmers, and competitive rates. The final step is to select the most effective hiring strategy while minimizing overhead costs and potential risks. Below are three promising opportunities to consider.
Use an IT recruitment service
Outsource to a Brazilian IT company
Remote Freelancing Sites
1. Use An IT Recruitment Service
If you have chosen Brazil as your top-choice nearshoring destination and have to gather a tech team from scratch, consider IT recruitment services to cut the hiring costs, among all the additional advantages. Partnering with a tech talent vendor to hire a remote team is indeed a more cost-effective approach compared to hiring an HR manager in-house, plus their practical expertise will help you get the best-matched talent faster.
Next Idea Tech would be happy to leverage our wide network of Brazilian developers to streamline the process of gathering a development team for you and source the perfect-fit candidates in a flash. We supply knowledge, capability, and capacity by providing on-demand access to hard-to-source talent and expertise on technology and transformation that keeps pace with the continuously evolving business environment.
2. Outsource to a Brazilian IT Company
Collaborating with a reputable Brazilian IT company can offer a comprehensive solution. These companies typically have an established infrastructure, project management expertise, and a team of skilled developers, allowing you to outsource your projects with confidence.
This option has its risks, as you can't predict the quality of delivery. You may review selected companies online, and check their rates, reviews, and ratings; however, such a process takes a lot of time and you can still find an unreliable partner.
3. Remote Freelancing Sites
Remote Freelancing platforms like Fiverr, Upwork, Freelancer, et al., can connect you directly with Brazilian developers. These platforms provide a wide range of talent and offer flexibility in terms of project duration and scope. However, it's important to thoroughly vet and interview potential freelancers to ensure their skills align with your project requirements.
Conclusion
In conclusion, nearshoring software development to Brazil is a strategic and cost-effective solution for businesses seeking to enhance their competitive edge in the global market. With a skilled workforce, a favorable time zone, and a thriving technology ecosystem, Brazil offers a perfect blend of resources and expertise to meet the diverse requirements of U.S. businesses. As the demand for digital transformation accelerates, nearshoring software development to Brazil will continue to deliver immense value, helping businesses scale, innovate, and stay ahead in an increasingly competitive landscape. Don't miss out on this unique opportunity – consider nearshoring software development to Brazil as a key component of your growth strategy to unlock new possibilities and drive success.
Do You Intend To Nearshore Your Software Project To Brazil?
Get in touch with our team and find out more about how you can make your business more efficient.