The Metaverse, a creation of Meta, has taken over the digital landscape. Thanks to the COVID-19 pandemic, there was a spike in interest in virtual and extended reality entertainment. This allowed the market to flourish and eventually, Facebook (now Meta) launched this new way to experience virtual reality. With the arrival of such an exciting technology, many tech companies are looking to specifically hire Metaverse developers. In fact, Meta itself will create 10,000 jobs in the EU over the next five years. This is a sure sign that this area of the tech industry will flourish in the near future. So keep reading to learn how to become a Metaverse developer!
What is the Metaverse and why you should get involved in it
Before you join the Metaverse, you probably want to know what exactly is this platform. Well, Metaverse is a 3D platform that allows you to live a full virtual reality. That's right, in the foreseeable future one could live a mirror life within a screen and a bunch of code. That's what Metaverse is all about. So why should you join the Metaverse as a nearshore developer?
The benefits of becoming a Metaverse developer aren't one or the same. There are different reasons behind this career path and they're all equally valid. For starters, you might want to become a Metaverse developer because you love the concept and want to help develop it from the get-go. But you can also be interested in certain Metaverse-related technologies and seek to join the movement to make your way within the industry. Or you could just be curious about the new employment opportunities that come when you join the Metaverse. No matter your personal reason for becoming a Metaverse developer, this article will help you identify the skills you need to become a Metaverse developer.
6 tips on how to become a Metaverse developer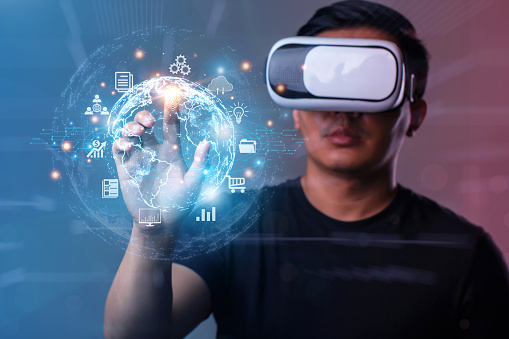 Show a passion for enhancing user experience.
User experience is everything in the Metaverse era. In fact, it's all about the experience. What the users live within the Metaverse reality will determine the success of the technology you're developing. If the users aren't having the time of their lives in this virtual reality, then there's something wrong with that Metaverse product. Skills like UX design, depth mapping, and plane searching can help you differentiate yourself as a developer with a solid focus on user experience.
Have experience or extensive knowledge in 3D modeling.
Since Metaverse is a fully immersive 3D platform, the creation of 3D objects is a crucial skill for any Metaverse developer. This will help the platform expand and give users creative opportunities to be part of the design of the Metaverse reality. You will create different assets that users can collect or create their own after a model to sell or keep. There are a few key programs for 3D modeling. We recommend getting started with Unity and Unreal Engine.
Understanding of AI technologies.
Artificial Intelligence is also at the core of what the Metaverse is. Users will constantly interact with each other, but they will also interact with AI. This could be a typical chatbot, an AI that simulates a person within the Metaverse, or something entirely different. Whatever the AI, you need to understand how these technologies work if you want to be able to market yourself as a Metaverse developer.
Be familiar with NFTs.
Non-Fungible Tokens have become the internet's latest sensation. This is a non-interchangeable piece of data responsible for keeping the identities of avatars and different objects. It ensures continuity in this virtual reality and helps to identify all ownership of digital assets, enabling movement from one server to the other. Because NFT technologies build avatars, objects, and structures, NFT development skills are highly sought after at the moment and will keep being requested for years to come. If you need any proof of why you should be familiar with this technology, keep in mind that NFTs saw a $2.5 billion increase during the midst of the pandemic.
Have a good command of blockchain.
Metaverse features a completely digital economy with Blockchain helping to enable all of their operations. This technology is a must for anyone wanting to become a Metaverse developer and work with NFT technologies, as it enables the use of NFTs and Cryptocurrencies. It also provides proof of digital ownership of all assets. If you're becoming a Metaverse developer, don't forget Blockchain as one of your strongest technologies.
Know the basics of extended and mixed reality.
If you're wondering how to become a Metaverse developer in 2022, you can't forget about the importance of XR and MX. These are the extended and mixed realities that will allow people to interact with the VR of the Metaverse without physically plugging into it. To achieve this goal, Meta is developing Project Nazare. This is an AR glasses device with augmented reality that downloads data from the Metaverse cloud and actively interacts with your real-life surroundings. Through extended and mixed reality, Metaverse developers can help to blend the platform's virtual reality into the real world, thus creating an even more immersing experience.
Looking to become a Metaverse developer? Join our network of nearshore developers from around the world!

At Next Idea Tech, we understand it can be tough to break it into the development world. Especially if you're looking for an opportunity to be part of something as big as Metaverse! The competition will only keep growing as this new platform gains even more popularity. That's why we want to invite you to join our international network of developers. We will help you find a rewarding development job connected to the Metaverse and prepare you for the next big step in your career. Contact us to apply and learn more about how to become a Metaverse developer!
FAQs about becoming a Metaverse developer
What are a few potential Metaverse developer jobs?
There will be a myriad of new Metaverse development jobs in the next few years. Still, a few of the most popular ones right now and in the foreseeable future are:
NFT developer
Metaverse project manager
Cybersecurity expert
Metaverse research assistant
Ecosystem programmer
Blockchain specialist
AI developer
Why should you join the Metaverse?
Metaverse will create over 10.000 jobs just within the next five years. Besides being a fascinating platform, Metaverse is also the future of development work.
Wait, what really is the Metaverse?
Metaverse is a 3D platform that allows you to live a full virtual reality, including ownership of different assets, live entertainment, and more.